Originally from New York City, Cathie Crawford lived overseas six years in Jeddah, Saudi Arabia and Grenoble France with her husband, Rich McBride.  She returned to Peoria in 2004 from France.  She has concentrated on the color reduction woodcut since earning an MFA degree in 1987 from Bradley University where she had a one-person retrospective in December of 2016.
Read more
Her work has been included in more than three hundred exhibitions, thirty solo exhibitions, eighty juried national shows and sixteen international juried exhibitions since completing a BFA from The Ohio State University in Columbus Ohio.  Crawford has received forty awards at both the national and regional level including Best of Show at the CIAO (Central Illinois Artists Organization) River Meets the Rails exhibition in March 2019 at the Galesburg Civic Art Center, the Second Place Award in the September Hot CIAO VI exhibition at Studios on Sheridan in the Sunbeam Building in Peoria and an Honorable Mention in April 2019 at the Monotype Guild of New England's Juried Exhibition at the Rhode island Watercolor Society in Pawtucket, RI.  Her woodcuts have been exhibited in twenty-eight states as well as France, Poland, Saudi Arabia, and the UK.
Crawford's prints are included in private and corporate collections in eight countries including the International Print Center New York in New York City; The American University Museum in Washington DC; The Safeya Binzagr Darat in Jeddah, Saudi Arabia, the Newark Public Library, Newark, New Jersey and the Peoria Riverfront Museum.
Artist Statement
My color reduction woodcuts celebrate the magical moments of my life. I strive to capture the truth and beauty of my subjects. Some images deal with a particular feeling or emotion I have toward my immediate environment. Resonant Reflections II and Manzoku are close up views of my water garden.
Deeply enamored with the ever-changing hues of water, sky and land, I use color for its emotional impact. I have always been especially attracted to water, seeking it out for its restorative powers. Water represents a powerful life giving force — a source of replenishment, rejuvenation or rebirth. Some woodcuts involve a close up view of an underwater world. My love of water aerobics (which I have been teaching for twelve years) turned into the underwater view, Lovely Legs.
My travels have inspired several prints. Likeness of Being is of a Florida heron and his reflection in the water as well as my concern for our environmental crisis. A trip to Thailand and an interest in Buddhism as well as contemporary Theology evolved into Sab pan yu.
Taking a break from figurative, Breaking, Serendipity, Spectrum, Homage to Hokusia, Luna Sea, Noumena and the Mokulito (lithography on wood) Nascent are more non-objective. This new direction evolved from a series of monoprints such as Pluvious VI and Dayenu. I am now more concerned with the converging of line, shape, color and texture in an ambiguous space with whispers of landscape.
Manzoku and Nascent are my first and second attempt at the Mokulito (lithography on wood) process. I am excited to combine my love of lithography with my woodcuts.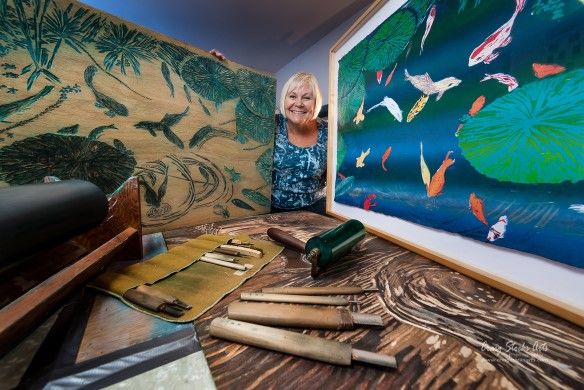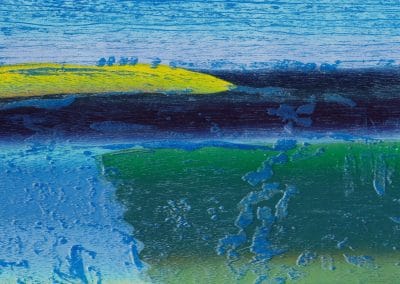 Nascent, Mokulito (lithography on wood), 20″ x 25″ bleed print on Hosho handmade Japanese Kozo paper.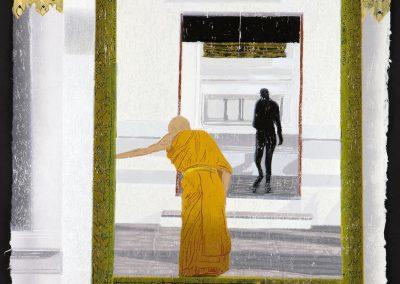 Sa pan yu (Thai for the Enlightened One), reduction woodcut, 36″ x 24″ bleed print on Natsume 4007 handmade Japanese Kozo paper.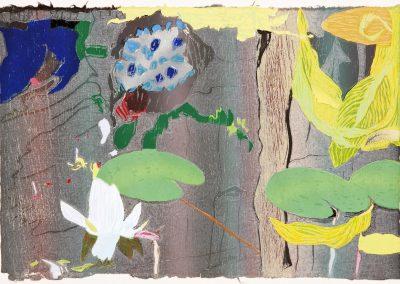 Resonant Reflection II, reduction woodcut, 12″ x 18″ bleed print on Natsume 4007 handmade Japanese Kozo paper.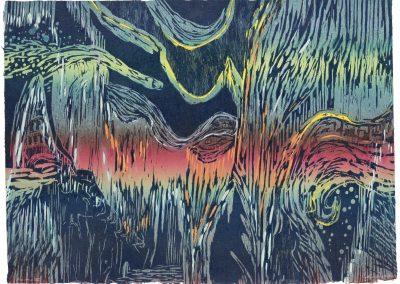 Pluvious VI, reduction woodcut monoprint, 24″ x 36″ bleed print on Natsume 4007 handmade Japanese Kozo paper.