By Nichole Gronvold Roller

Inland Art is a regular featured column in Community Word newspaper. This article was first published on June 29, 2021. Used by Contemporary Art Center of Peoria with permission.
I met Jan Brandt many years ago when her gallery and studio space was located at the historic Coca-Cola Bottling Plant on Bell Street in Bloomington. I was seeking a new gallery to visit beyond my typical stops in Peoria and an artist friend recommended the Jan Brandt Gallery. My first encounter with the artist was at her gallery during a packed artist reception. Even though there was an impressive crowd, it was not difficult to find the host of the event; one only needed to follow the infectious laughter and energetic hub within the room.
During my visit, Brandt graciously gave me a tour of the gallery and its studio spaces, along with sharing her artwork and process. I know my unique encounter with Brandt's hospitality is not an isolated event. Her consideration and ability to connect with creative individuals is evident in her impressive record hosting over 900 artists presenting both solo and group exhibitions since 2012. In 2017, the artist moved her gallery to Morrissey Drive in Bloomington where she founded the Guest Room.
The Guest Room offered a platform for artists to explore new concepts while curating their artwork with Brandt's assistance and invitation. Always open to new possibilities, Brandt recently relocated her studio to Normandy Village in Normal, all while prepping for a solo exhibition, "Hothouse," at the Contemporary Art Center in Peoria. Not wanting to entirely give up her role as a gallery director and owner, she is currently hosting an online venue, "Exposure," as a means to support artists by featuring their artwork.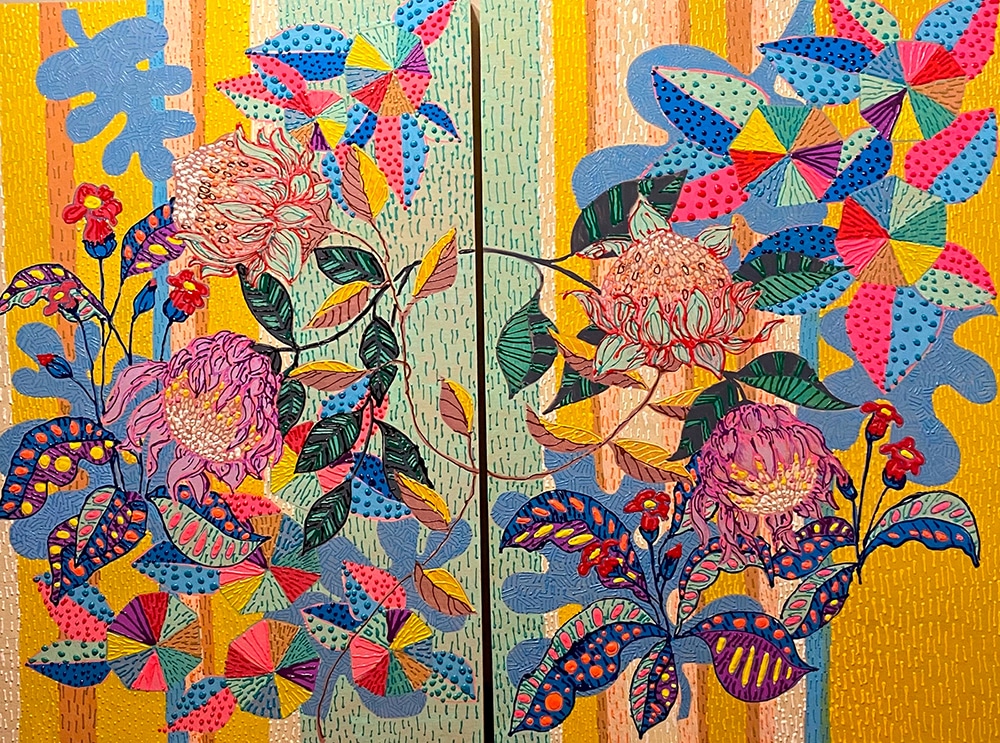 "Hothouse #11 and Hothouse #12," by Jan Brandt, acrylic and chalk paint on cradled wood panel, 48 inches x 36 inches (Diptych 24 inches x 36 inches each panel), 2021
The works by Jan Brandt featured in the Preston Jackson Gallery is an admirable collection of new paintings and fiber art created by the artist within the past four months. The dedication and relentless studio practice are apparent in Brandt's ability to fulfill a rigorous 14-hours-a-day schedule devoted entirely to artmaking.
During a recent home studio visit, I was entertained by paintings spilling over into the living room and fiber works exploding from Brandt's art studio into the guest bedroom. Brandt's intention to create an immersion experience while viewing "Hothouse" has pushed the artist into abundance and prolific artmaking.
Brandt's latest painting series is a confection of vivid colors and densely arranged organic patterning influenced by ornate Jacobean tapestry, 18th-century botanical drawings, and Swedish floral designs. The palpable quality of the "Hothouse" paintings are informed by the multimedia artist's longstanding practice with fibers. Anchored in a narrative based on childhood observations of the family farm, her sensitivity towards natural surroundings is augmented by visiting greenhouses, arboretums, and botanical gardens. Enveloping our senses, "Hothouse" is a visual translation of lush colors, fevered temperature, curious sounds, and sensual fragrances often produced by a greenhouse experience. Per the artist's design, one initially perceives the exhibition from a holistic point of reference then honing in on specific details and visually dissecting individual sections of Brandt's bountiful and cleverly indulgent composition.
"Hothouse" is open to the public from June 25 until Aug. 13 with an artist reception 6:30 to 8:30 p.m. July 17 featuring music by Vandana Duo.
Jan Brandt's artwork may be found at www.janbrandtgallery.com.
More Community Word articles can be found at Community Word – monthly newspaper based in Peoria, IL